News
October 11th, 2013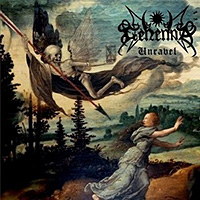 New album "Unravel" released.

Track listing:

The Decision
Unravel
Nothing Deserves Worship
Nine Circles of Torture
A Grave of Thoughts
Lead to the Pyre
End Ritual
Death Enters

Order and listen to samples here
2008
Gehenna video/audio

If anyone has any live-recording of Gehenna of either VIDEO or AUDIO could they please contact: gehennacoven@gmail.com
We are planning some future releases and require your help.
(ANY material used will be hailed in the credit section of the release/s)

Gehenna



Gehenna have signed with Indie recordings!

Press release:

Indie Recordings announces new signing
It is with great pride we announce the signing of Black Metal Legends Gehenna!

Gehenna saw the light of day already back in 1993 and are one of the original founders of true Norwegian Black Metal. With 6 albums and 2 EP`s on their soul scarred conscience, they have made an profound impact on today's black metal scene. Gehenna has explored the boundaries of the genre but always stayed true, no doubt one of the main reasons for their cult-like status. The band has had an almost endless stream of members running through its veins. For the upcoming release they have found their strongest line-up ever, once again feat. Dirge Rep after his leave of absence to Enslaved and Gorgoroth. Founding fathers Sanrabb and Dolgar and the rest of the band will enter Reel Noise Studios (The Deviant, Purified in Blood) in July 08 and record what is being described as a natural continuance of their latest album "WW" (Moonfog). The band is reported to be in very high spirits, and is looking forward to once again get out there, tour, and meet their ever growing fan base.

In a press statement the band comments the signing:

Indie Recordings was without a doubt the best choice for us. Their professionalism and distribution is very impressive and communication is never at halt.

For the future, RISE! HAIL SATAN!

Gehenna


Stay updated on www.myspace.com/gehennaofficial, www.indierec.no and www.myspace.com/indierecordings.

We will shortly publish yet unseen and unheard material to ease the wait for the Sept/Oct release of the new album.


2007
ANP Records contract cancelled.
Dirge Rep fulltime member
Gehenna performs with Mayhem at Folken, Stavanger
Planning a new album, rehearsals.


Future Assaults

Releases:
«WW» LP Moonfog Productions

Live:
Abracadaver Festival Stavanger 03 November 2007
(Necrodeath, Gehenna, Black Flame, Kill)
Tickets/Info: abracadaverfoundation@hotmail.com
TBA gig Kristiansand 2007

Merch:
New Tshirt in the making courtesy of Worship Him Records
Info: worshiphimrecords@gmail.com
2006
Dirge Rep live session member
Martin (ex-Desspo,Agitator,Narcosau) live session member
Gehenna performs with Thundra at Tribute,Sandnes



September 27th, 2006


Gehenna will release their new album in Spring 2007 through ANP Records.




January 15th, 2006


Gehenna are happy to announce the signing of a record deal with ANP Records.

For our upcoming album due to be released in the year of our lord 2006.

In the next couple of months we're going into the studio for a pre-recording of a couple of songs for the next album.

Ave Satan!




August 28th, 2005


The concert at the Hole in the sky festival in Bergen, Norway took a dramatic turn as Sanrabb suffered what most likely was an epileptic seizure only a minute into the first song of the concert. Sanrabb is not known to have had epilepsy previously, but did suffer a similar seizure for the first time in his life only the night before the concert and was sent to hospital. Against doctors advise, he still wanted to go to the festival and do the gig. Gehenna would like to thank everyone who came to see us that night, it was extremely unfortunate that we were unable to finish the show as planned, hopefully we will be able to catch up later on!!




April 5th, 2005


Added pictures from the Inferno Festival 2005.




April 4th, 2005


New album "WW" released worldwide.




March 31st, 2005


Gehenna will play live in Italy in Codevilla, Thunder Road (Milano) on April 25th, 2005.




February 25th, 2005


A sample of the new album "WW" is available here!




February 10th, 2005


Gehenna will play live at the Inferno Festival in Oslo, Norway, on March 24-26th.




February 8th, 2005


The title for the new Gehenna album will be "WW"!!!! The complete tracklisting is:

Grenade Prayer
Death to Them All
New Blood
Flames of the Pit
Silence the Earth
Werewolf
Abattoir
Pallbearer

The album is currently being manufactured, and will be available on both CD and Vinyl!
A sample will also be available here shortly, as well as other news/release date etc!

On the live front, Gehenna are confirmed for the following dates:
11.02.05 By:larm Stavanger, Norway
26.02.05 Zone Trondheim, Norway

More dates will hopefully follow soon!




November 7th, 2004


Finally the recording and mixing of the new album is finished! Sadly a few delays occurred, so the album will not be released until early next year. Title and release date will follow shortly!




November 3rd, 2004


Added a few samples.




October 31st, 2004


Added new pictures.




June 23rd, 2004


Dolgar just finished the vocals on the new demo from DEVIANT, the band formerly known as 122 STAB WOUNDS. Dolgar stepped in last minute to do the vocals because the band's former vocalist quit while they were in the studio. Deviant are working on a website, link will follow.




June 7th, 2004


News from Dolgar:

We hope to get the new album released in September, but no final date is set yet! Sanrabb just returned from tour with Mayhem a few weeks ago, so we are now putting the finishing touches to the new material. The drums are as you know already recorded, and hopefully we will enter the studio in a months time to record the rest and mix the album.
We have not decided on a title for the album yet, but some of the songtitles are:

Flames of the Pit
New Blood
Pallbearer
Grenade Prayer

There will be 8 songs on the album, and it will be released by Moonfog.




February 24th, 2004


Finally some news. Dolgar is back in the band and they're recording the new album.
The drums are already recorded, by Frost.




April 8th, 2002


We're planning to start recording our next album in July.

Frost(Satyricon) will play drums on the album, and Blasphemer(Mayhem) will probably do some of the guitars.

We already have a couple of songs ready, and we think that people who liked the first three albums will be into the new material as it's a bit more melodic and keyboard-based than the last two.

Nekro left the band a while ago, because he couldn't combine it with his job.